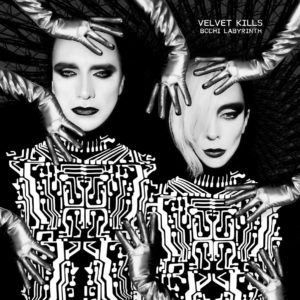 Velvet Kills
Bodhi Labyrinth
Unknown Pleasures Records/Icy Cold Records/Manic Depression Records
Lisbon-based darkwavers Velvet Kills' new mini-album Bodhi Labyrinth arrives with support from a veritable who's who of current underground darkwave labels: Unknown Pleasures, Icy Cold and Manic Depression all have their name on the LP version. Perhaps it's the completeness of the package Velvet Kills present that attracts the interest of so many different entities. Listening to the six tracks on the release you get a solid taster of modern darkwave styles, from the snarly goth rock guitar lick that rolls out over "In the Gold Mine" to the sparkling synths and airy pads of "Bitch Face" and the vague exotica keyboard sounds on "Hangover Calling". All the numbers present as reasonable dancefloor options depending on what time of night and what style of music you've been playing, and the production is tasteful and stays out of the way of the songs. While nothing here is an absolute knock out in terms of melody or hook, the dark and menacing twinned vocals and upbeat tempos give the music personality and pep enough to engage. Velvet Kills clearly understand what they're going for, and do it with plenty of gusto.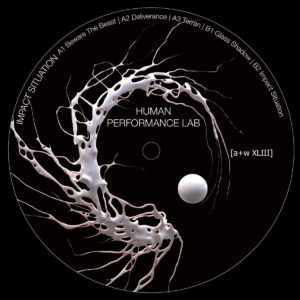 Human Performance Lab
Impact Situation
aufnahme + wiedergabe / X-IMG
Emad Dabiri of Sarin and Matthew Cangiano of Vierance have carved out a comfortable niche for themselves over the course of Human Performance Lab's three EPs, with an easy and bouncy spin on EBM/techno sounds acting as a perfect example of the aesthetic Dabiri's established on his X-IMG label…making it especially ironic that the duo have only now put out a release on that label, the Impact Situation EP being a co-release with aufnahme + wiedergabe. Hypnotic repetition is the tactic HPL take on this particular EP, with simple, rubbery bass grooves rising and falling as news and movie samples (Romper Stomper is the combo breaker to their customary cyberpunk tastes) weave in and out. A workman-like 120 BPM is staked out on most of the tracks, and rather than rhythmic build or progression the focus instead shifts to slight variations in bass textures. And while that style makes for relatively chill cruising on the A-side, the addition of some classic electro and acid flourishes on the B-side tracks yields some Hacker-ish panic and anxiety. Human Performance Lab have had their sound on lock nearly from day one, and it's always nice to get a fresh missive from them.