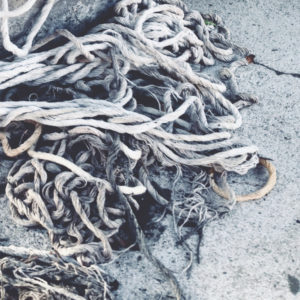 Pedestrian Deposit
Dyer's Hands
Monorail Trespassing
There isn't anything necessarily new about blending acoustic elements with noise – it's inseparable from the latter however far back you'd care to date it (Cardew? Xenakis? Russolo?). But the longstanding duo of Jonathan Borges and Shannon Kennedy aren't interested in such intersections from purely historical or theoretical perspectives, as a quick skim through any of the striking recordings of Pedestrian Deposit's live performances will show you. While at times mercilessly aggressive, their new LP Dyer's Hands doesn't indulge in shock or experimentation for its own sake. Combining harsh noise, drones, and treated acoustics across five compositions, Dyer's Hands is the result of five years of recordings and treatments, and that time and care is evident in both the louder and softer sides of the record. The beautiful "What Can't Be Given" has far more in common with, say, Rachel's or Debussy than any harsh noise act you'd care to name, but the bed of drones which lie beneath Kennedy's mournful cello point to talents for sound manipulation quite different from the squalling waves of feedback which makes up opening track "Crow Theory". Tying everything together is the closing, eighteen-minute suite of "Beneath The Salt"; shifting from tremoring drones and strings to seas of noise which finally yield to a single, simple cello refrain echoing on and on, it somehow finds a way to portray all of Pedestrian Deposit's disparate elements as part of a rich and organic whole.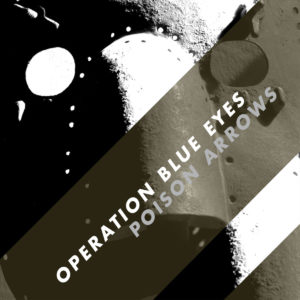 Operation Blue Eyes
Poison Arrows
Basic Unit Productions
Operation Blue Eyes is the project of Jonas Hedberg, most well-known as the vocalist for defunct Swedish electro-industrial and neo-oldschool EBM act The Pain Machinery. His work in that band was alternately biting and brutal, but Operation Blue Eyes' new EP from Basic Unit Productions Poison Arrows shows him in a more measured and thoughtful light, with an emphasis on songwriting and melody. The instrumental toolkit Hedberg utilizes is clearly descended from classic body music, making for an interesting blend of sounds and genres including notes of darkwave and post-punk. "Witch Hunt" has Hedberg in the sardonic mode we heard from him in the latter The Pain Machinery material, but uses it's staccato bass and tightly quantized synths to build a pleasingly melancholic chorus accentuated by icy pads. Opener "Filth" makes excellent use of interplay between a tightly programmed bassline and fuzzed out bass guitar, while the vocals are delivered in a stately fashion that makes the whole song unexpectedly reminiscent of OMD. Especially effective is "Dead Air", where Hedberg delivers an understated and emotional performance that shows off some of his vocal charisma, it's sadness buffered by short blasts of detuned analogue synth noise. Poison Arrows is solid material that doesn't fit easily into any genre, while maintaining a welcome continuity from the artist's previous work.