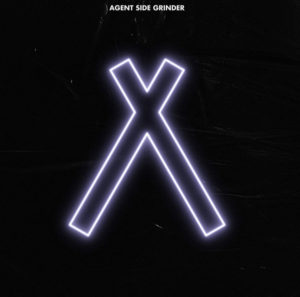 Agent Side Grinder
A/X
Progress Productions/Metropolis Records
A/X isn't a record by the Agent Side Grinder we knew. The 2017 departure of bassist Thobias Eidevald, synthesist Henrik Sunbring and founding vocalist Kristoffer Grip was bound to have an effect on the project that gave us albums like the anxious and nervy post-punk Industrial Beauty and the neo-krautrock synth opus Hardware. Remaining original members Johan Lange and Peter Fristedt, along with new vocalist Emanuel Åström were faced with reconfiguring the band without losing what made the project so special. Their answer was to go all in on reinvention, drawing from the same palette of distinctive analogue synth sounds that have always been their forte and applying them to a neon-drenched cold war aesthetic that is both mysterious and familiar.
Lest that description give you the impression that Agent Side Grinder have gone synthwave for this release, rest assured that A/X maintains the band's wave and post-punk roots. More specifically, the album's nine tracks do an excellent job of showing off exactly how much ground can be covered within that rubric. Opener "In From The Cold" establishes the album's themes of Cold War uncertainty with vintage vocal samples, pulsing bass synths and dry percussion before the chorus cuts loose with layers of melodic pads and an excellent hook from Åström. That sort of build and release has always been a major part of the ASG toolkit, and is a major component of nearly every composition on the LP; witness the recasting of euphoric dancefloor acid bass as paranoiac narrative on "Doppelgänger", or how "The Great Collapse" constructs body-music sounding basslines, downshifts into an understated chorus that makes their inevitable return to the versethat much more impactful.
None of these sounds or ideas seem like they would have been off-limit to the previous incarnation of Agent Side Grinder, but it's important to understand how the delivery here make this feel like a different band. Aside from the obvious change in vocal delivery – where Grip was alternately gruff, frenzied or resigned, the admittedly less distinctive Åström is reserved and charming – there's a smoothness in the production and sound design that marks A/X as distinct from its predecessors. Full-on dancefloor rave-up "Stripdown" delivers club thrills with an instantaneous twangy hook, big chorus and late-game sax solo that shows a polish ASG had never really concerned themselves with previously. "MM/CM" approaches the quirky electro vibe with a kind of jazzy panache, the rawness of its analogue synth sounds balanced with slick production.
Agent Side Grinder have found a path forward from the sort of seismic line-up changesthat kills or at least hobbles bands that go through them. By seizing on aspects of their established sound as a template and then taking them to subtly new places, the Swedish trio get to own their legacy without being totally beholden to it. It's old, it's new, it's different and somehow comfortingly recognizable, a feat that is worth celebrating in and of itself. Recommended.