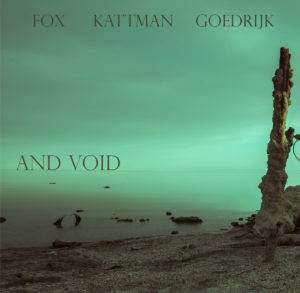 And Void
self-titled
self-released
And Void is a new project made up of already established collaborations. Canadian rhythmic industrialist Scott Fox of iVardensphere and Mika Goedrijk cemented their mutual appreciation when Fox recently joined Goedrijk's long-running project This Morn' Omina, with the trio being rounded out by Mari Kattman (Helix) who has done vocal work with iVardensphere numerous times in the past. Consequently there's something of a built-in familiarity to And Void's debut release, although the project's specific emphasis on orchestral and downtempo electronics expands on ideas we've heard these artists explore together previously.
The core of And Void is (naturally considering the parties involved) a mix of deeply designed electronic soundscape work, organic instrumentation and complex percussion. If you're familiar with the principles, than a song like "Unsung" is probably close to your expectations; subterranean synth bass, string stabs and a loping percussive loop with Kattman's expressive voice smoothly carried atop. It's a sound that And Void know how to execute perfectly and they do it with aplomb with big reverb textures and warbling synths given more spotlight on "October Lullaby" and closer "Little Death".
Where the record really delivers surprises is through its orchestrally focused numbers. Opener "Perchance to Dream" works a rich arrangement of choral sounds, synthesized instrumentation and cinematic ambience that recalls mid-period In The Nursery both in terms of build and detail. Later numbers like "Eclipse Phase" and "Sunward" work similar ideas, but with more pronounced vocalizations from Kattman, the latter number adding a simple but propulsive low-key electronic groove that compliments its brass and plucked strings. When the group brings those approaches back to the fold on the excellent "Midnight Black" the effect is tremendous; the twinkling melody, and razor sharp violin stabs piercing through the song's ominous samples and an excellent guest vocal from Andy Deane.
Apparently the material that makes up the And Void record has been passed back and forth between Fox, Kattman and Goedrijk for a few years now. Given that these folks have loads of extant work together beyond this release, it's interesting to speculate how much of the record started as proofs of concept or workflow exercises, as each artist explored the potential of collaboration. Which is not to say that the album feels like a series of sketches, or that it lacks depth, moreso that it provides some insight into what these musicians are interested in exploring together, and what we may hear from their partnerships going forward.