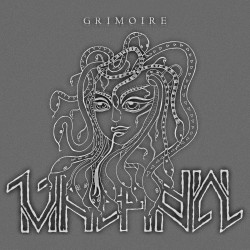 V▲LH▲LL
Grimoire
Artoffact Records
The idea of "classic" witch house experiencing a revival might come as a shock to those who haven't come to terms with the genre being nearly ten years old at this point. Whatever your experience with it might be, that hazy mix of swamped out percussion and sluggish vocals traipsing across a codeine dreamscape is long enough in the tooth to be looked at from a historical perspective. The belief we've upheld at ID:UD over the years is that acts like V▲LH▲LL were able to take the markers of the genre far further than its nihilistic origins by hybridizing them with swaths of other sounds and aesthetics. In V▲LH▲LL's case, that meant heaps of Nordic folk tales and imagery and an even slower and more atmospheric sound. It's ironic, then, that Grimoire, the Swedish duo's second LP and, apart from one EP, only release in the past two years, draws upon recognizable witch house signifiers more than most of their extant work, yet somehow ends up yielding compositions which are more ambitious and far-reaching in style than anything they'd yet pursued.
It's important to note that the sense of fairytale mystery and atmosphere which first drew us to V▲LH▲LL is still in full effect on Grimoire, and possibly even amplified; it's the means by which they're achieving it which feel somewhat stripped back. The component elements which make up much of Grimoire will be familiar to anyone who tracked the early waves of witch house releases: the quavering pads which shudder between beats and the squawking bleeps on "Lilies For Belial" or the slowly rolling claps of "Dead Waves" feel more raw and stripped down than V▲LH▲LL normally roll, but the compositions themselves, in addition to vocal and synth melodies, end up producing wildly varied experiences.
This isn't to say that the band are consciously limiting themselves in terms of their approach on Grimoire. Closing number "Niðingrdans" draws upon synths from all over the map – some stark, some bright and squelching – and the end result feels just as much a tropical house jam as it does a Viking funeral dirge. And the grinding bass synths that circulate beneath the ghostly bells on opener "Bonetrees" might not feel out of place on some raunchy drum n' bass number, but instead cut through the song's production fog so its melody can take hold. You even get some rapidfire drum programming and detuned synths on the staccato "The Hunt", a song where abnormally busy rhythms and monotone voices supplant the expected pads and string sounds, but still yield buckets of mood and ambience.
That diverse approach to instrumentation and production is equally reflected in the style of the songs. Traditionally V▲LH▲LL have positioned themselves between OG witch house's draggy trap and a sort of giallo synthwave, as distinct a blend as any of the former genre's other notable diaspora have managed. Grimoire indulges numerous further additions to that blend, some of them totally unexpected. "Ruins of Vanaland" sounds like it could have started life as a piano-led cabaret number, and "Aeons Unveiled"'s vocoders and orchestral flourishes flirt with dark electro grandeur. The loom that weaves all the disparate stylistic and instrumental threads of the record into a complete tapestry are the project's familar approach to vocals – pitched down male and clean, forceful female – and the project's penchant for folky melodies.
Of course, none of this experimentalism should come as a surprise for anyone who has followed V▲LH▲LL for any length of time; it's probably fair to say that any band that could effectively sample "The Teddy Bear's Picnic" isn't afraid of trying new ideas. Grimoire's execution of concepts and sounds within the band's established rubric is exceptional though, vastly expanding the scope of their sound without compromising their character. It's their most accomplished release by a wide margin, and an early contender for end of year honours. Recommended.