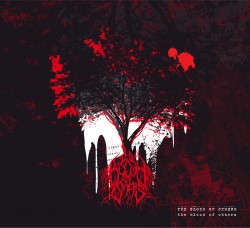 The Blood Of Others
I Used To Think Everything Was Beautiful
Audiotrauma
Friend of the site Michael Kurt's been very up front about his slow disillusionment with aggrotech. Despite that hoary, saw-toothed beast still being the most obvious point of reference for his band [product], Kurt's been hewing a path somewhat similar to that of Distorted Memory's Jeremy Pillipow: finding ways in which to develop a richer musical palette rife with atmosphere and dynamic tension by playing fast and loose with the aggrotech blueprint. Kurt's taken some [product] downtime as an opportunity to start a project from scratch, one informed by those forays into witchier and more ambient spaces.
The debut of that project, The Blood Of Others' I Used To Think Everything Was Beautiful feels like a matured repositioning of at least one of aggrotech's preferred themes: apocalypse. Across its ten tracks, the record pivots back and forth between personal disappointment and more universal issues like spiritual/cultural bankruptcy and environmental catastrophe. The guilt, generational divides and conflicts through which our endings are mediated make for good, brooding fare, and Klangstabil's Boris May cinches the mood just right when he hops onto "We Will Shine" for a guest spot.
Musically, The Blood Of Others takes influence from the contemplative, drawn-out chamber sounds which have been currying favour as the witchhouse diaspora moves into classic darkwave turf. ∆AIMON's as good a keystone as any on tunes like "To The Silent" and "The Velvet Cloak Of Darkness", but there's something of Puppy's more gothic and lament-laden sounds on "The Thunder In My Heart Is Gone". "Midwinter Ritual" sparks off a strong third act for the record, bolstering things with some sequenced, chugging guitar which wouldn't sound out of place on a M‡яc▲ll▲ release. Kurt's vocals, which at times feel a bit naked and uncertain in sparser arrangements earlier in the record, are richly supported on the forcefully ornamented and delivered "The Word For World Is Forest".
It feels odd to describe the sound of the first record by someone's new band (ostensibly very dissimilar to their previous one) as a consolidation of their themes, but having been privy to a good deal of discussion about I Used To Think Everything Was Beautiful's genesis and inspiration both recently and earlier, that's really the best way I can put it. Kurt's looking for ways of connecting seemingly disparate ideas and sound (deep ecology and nihilism, black metal and darkwave), and with this record he's off to a promising start.