Morning, gang! We're back with another half dozen tracks after the long Canadian weekend (also the name of John Turner's memoir of the Meech Lake Accord days – true story!). We mentioned this on the Twitter but it's worth getting into in a bit more detail. While we spend a huge amount of time hunting down new music to fire off to you folks on Tracks and get into more detail on in reviews, that hunt doesn't happen in a vacuum. In addition to all of the various label folk, bands, and DJs firing stuff our way, we like to track what our friends are nabbing on Bandcamp. Inobtrusive in a way that no other social media platform is, Bandcamp's accounts have quietly become one of the easiest means of finding well-curated music lists. We'd like to give a special shout-out to Mark Edwards and Marc Church, whose collections have turned us on to plenty of great new stuff, or at least hipped us to new releases by bands we already like (a necessary task given today's signal to noise ratio). If you use Bandcamp's collections pages, you should definitely be tracking what those cats are copping, and feel free to add our goofy profiles, too. Onward!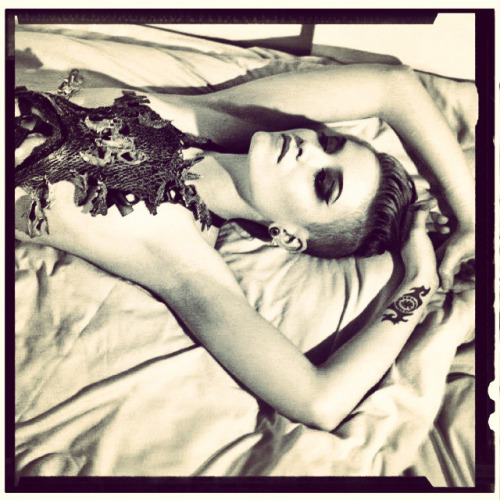 1000 Homo DJs, "Supernaut (Die Krupps remix)"
Okay, so I don't think this is something any of us were expecting. The well-worn story of how T-Rez recorded the vox to 1000 Homo DJs club-classic Sabbath cover is well-known, but who amongst knew that the dudes in Die Krupps did a remix of it? Well, apparently someone at Cleopatra Records, because it's finally surfacing, complete with EBM bassline and "Head Like a Hole" rhythm track. You'll find it on Cleopatra's new Occult Box, a massive 4 CD compilation featuring rad newer stuff like Bestial Mouths, Fostercare and M‡яc▲ll▲, and a bunch of the same old Psychic TV and Christian Death songs Cleo has been padding out their comps with for twenty fucking years.

Prurient, "Dragonflies To Sew You Up"
Oh, wow. Dom Fernow's name has of course been well regarded for years by anyone with an interest in modern noise. There's always been something for everyone across the wide spread of Fernow's projects: from the more traditionally power electronics-slanted Prurient, to the Muslimgauze-like pulse of Vatican Shadow, to the more ambient Rainforest Spiritual Enslavement, to the depressive lo-fi black metal of Ash Pool. It's still early going and we've only scratched the surface of Frozen Niagra Falls but the newest Prurient LP looks to be the man's magnum opus, combining elements of just about every style and aesthetic he's worked with in a firestorm of noise and murky sequencers.

Human Performance Lab, "Altitude"
Speaking of releases we've been pointed to by the aforementioned gents, this tape released by new Toronto label Deth came out towards the end of last year, but we're just getting to it now thanks to Mr. Church, and damn if it doesn't cook. Thumping stuff that's equal parts EBM, dark electro, and just plain electro, we'd like to think this is what Gatekeeper'd be doing if they'd stuck with the hard stuff. Be sure to check the tape from labelmates Sarin while yr at it.

Purity Ring, "Dust Hymn (Comaduster remix)"
We've never written a thing about Edmontonian synth sensations Purity Ring here on ID:UD, mostly because they aren't totally on format for us. That said, their friend and ours Réal Cardinal of Comaduster recently remixed their track "Dust Hymn" as a promotion for a free show in their mutual hometown and this shit is f'really real. You like deep bass, emotive strings, glitches articulated by hand instead of by some plugin's algorithm? Click play below friend.

Zanias, "I Turn in Her Waves"
We know Zoè Zanias from her work as half of Berlin-based minimal duo Keluar and her collabs with a few artists we dig on like DSX. So far as we know this is her first totally solo material, but we're digging on the chilly, distant vibe it's giving off. Zoè has that distinctive confidence as a vocalist that makes her totally distinctive even when she's playing it way back as she does here, interested to hear what the new Keluar stuff will sound like when it surfaces later this year.

Nommo Ogo, "Nameless Plateau 1"
Lastly, here's some full-bore psychedelia from Alaskan expats Nommo Ogo. Their latest four-track LP, Nameless Plateau, is busier and more frantic than anything we've heard in their back catalog, welding propulsive kosmische to a melange of 90s dance and techno markers, some of which aren't too far off from Mentallo & The Fixer at their most brapped out. Hope to see you on Leng for the annual Ayahuasca cook-off.