Morning, gang. There's been plenty of exciting gig and tour news of late, from the yet to be confirmed dates for the Seabound/Architect tour to a mini festival of coldwave and post-punk bands right here in Vancouver, but if we're being straight with you, it's the announcement that Laibach will be touring North America that's got us most excited. Judging by our various feeds, we're certainly not the only ones. It's been over ten years since the NSK's agit-prop wing passed through our town, and we're absolutely fascinated to find out how the work they've released in the interim (especially Spectre). Until then, it's business as usual around these parts, so let's get to this week's new tracks.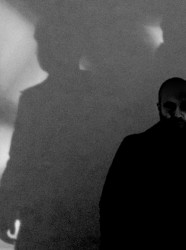 Celldöd, "Som Rakblad (video edit)"
If you like your EBM/techno crossovers rigid and robotically funky, you might take some time to check out Sweden's Celldöd. We're big fans of project mastermind Anders Karllson's other project The Pain Machinery, but there's a world of difference between that band's acid-inflected body music and Celldöd's unforgivingly raw sequencing. This particular track comes the forthcoming expanded vinyl reissue of cassette release Pulsdisco, coming out February 3rd via the good folks at Suction Records. Get on it.

Shadowhouse, "A Darkness"
Dark Portland post-punk act Shadowhouse released their first LP, Hand In Hand, a few weeks back, and we're keen to see how their sound's developed since the first singles and live sets we caught. Some very strident and stormy stuff on this track in a Chameleons/Sad Lovers And Giants vein.

Death Of Abel, "Westwerke"
Some trad neofolk from Germany on the always reliable Aufnahme Und Wiedergabe label. Death Of Abel's in fact a side project of Luca Gillian, better known for his work in underrated coldwave act Die Selektion. Gillian sticks to a very pure strain of the Death In June sound, barely ornamenting the acoustic guitar tracks on A Cruel Streak with anything apart from tambourine.

STÜKA, "Bloom"
One of those random finds you come across trawling tags on Bandcamp, gotta say we were not at all familiar with Toronto's STÜKA until some time yesterday. Glad we did make their acquaintance though, as their fuzzed-out, punky version of cold wave (the european variety, natch) is the sort of thing we enjoy from time to time. Looks like they have a bunch of releases already out on Bandcamp, so we'll certainly be digging a bit deeper into this new-to-us act. Here's to happy accidental discovery of unhappy music.

FoxxyNewport, "Stars"
We were big fans of Bay area synthwaver FoxxyNewport's single "Black Lodge" when it dropped a ways back, so we were extra keen to hear another collaboration with that song's producer Mr.Kitty. "Stars" certainly lives up to that expectation, all speedy modern synthpop delivered with just the right amount of naked sincerity and a hook you can hum right out the gate. Apparently this is the lead single from Foxxy's upcoming LP, we could certainly do with a whole record of this business if he were inclined to record it.

DRIFT., "Mirage"
Finally, some lo-fi prettiness that straddles the minimal wave and synthpop border. We don't know much about DRIFT. apart from the fact that Nathalia Mlynkova also does time in the very pretty London dream pop act Leave The Planet. One way or the other, the icy pulse of this tune merits a closer eye being kept on this camp.