It's officially less than 3 months 'til our beloved Festival Kinetik kicks off in Toronto, and as followers of this here website may know, we were tasked with putting together a second stage of bands, a first in the history of Canada's largest industrial and related musics festival. Our criteria for the B stage were pretty simple: who do we like, and who do we want to showcase? We've been hipped to oh so many bands by seeing them play at festivals over the years, and figured this was our chance to do the same for the folks who travel from all over. Humbly, we think we covered our bases, both in terms of providing a look at some acts from different genres, geographies and levels of recognition. Speaking to the last point, we figured it'd be a good idea to do a little summary of all the folks who'll be gracing the I Die: You Stage at Kinetik this year. Read on, have a listen to a track or three, and we'll see you in May!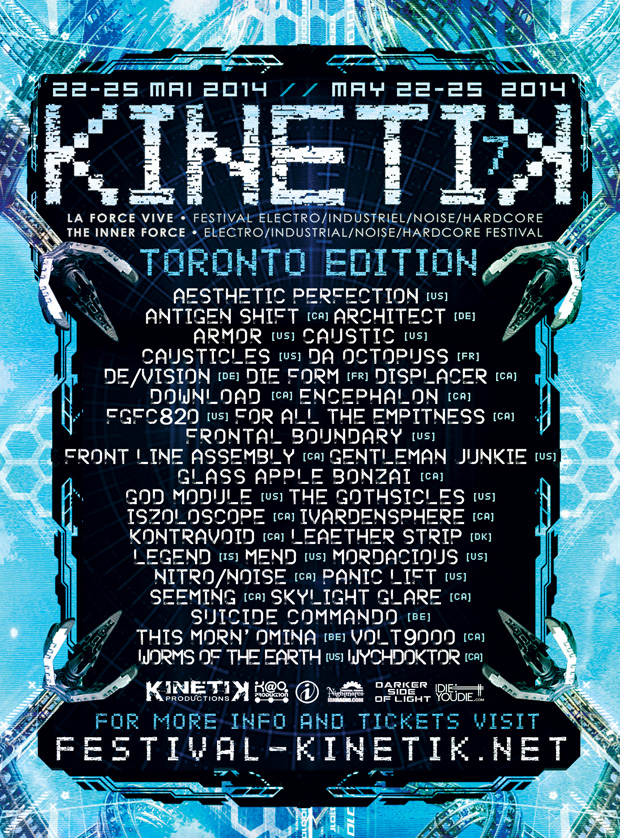 Antigen Shift
No stranger to heads in the know, Nick Thériault's Antigen Shift was one of the acts to emerge from the Canadian rhythmic noise scene circa the millennium, in the same class as Iszoloscope (with whom he collaborated on split The Blood Dimmed Tide) and S:Cage. While the project's output hasn't been huge of late, Thériault has been teaming with Jairus Khan of Ad·ver·sary on a new album (the forthcoming Brotherhood) and initializing a new live version of Antigen Shift. This will be the first appearance at Kinetik for a project with deep roots in the East Coast Canadian industrial community, atmospheric and crunchy songs that speak of inhospitable climes and the will to survive them.

Apriorism
Hailing straight from our nation's capital, Nick Doyle is relatively new to the game, but we knew we wanted to feature him pretty much from the moment we got the call to assemble our line-up. As a DJ and promoter with Ottawa's Death Disco Nick has been one of the folks embracing much of the new and interesting music to emerge from Our Thing over the last couple years, and his canny ear as a selector is reflected in the rapid evolution of his original musical outlet. Electro-industrial in the Canadian tradition, Apriorism is partaking in a now familiar ritual; young Canadian project makes the stage at Kinetik before moving on to international recognition.

Displacer
Recent readers might have noticed us talking up Michael Morton's new Crime League label and its releases with some regularity, but Morton's been turning heads in and out of industrial on the basis of his own creative work for over a decade now. Diplacer's work moves from dub to technoid with multiple stop-overs, with a catch-as-catch-can approach to breaks. While often spacey and immaculately programmed, Morton infuses all of his work with a glowing warmth which makes it feel uncannily familiar for all of its alien qualities. Expect an IDM masterclass from the Kinetik veteran.

For All The Emptiness
Jonathan Kaplan's synthpop project has been gigging heavily in the northeast for the past few years (you might have caught it alongside any combination of Panic Lift, The Gothsicles, or Die Sektor), so it's only fitting that F.A.T.E. play Kinetik now that it's landing in the band's hometown. The project trades in soaring, high-drama futurepop, but turns the genre's often spiritual themes on their head, instead offering rationalist critique alongside sweeping, operatic vocals and big arpeggios.
prayers by for all the emptiness
Gentleman Junkie
A highly developed act with a strong following in the West Coast of the States, Gentleman Junkie are making solid inroads for their brand of EBM. The duo of Ed Korn and Bil K have been performing around Los Angeles for the better part of the last five years, taking time out to record a few self-released albums and 2013's vibrant Soul to Soul for Negative Gain Productions. Seasoned and ready for the international stage, Gentleman Junkie will appeal to those attendees looking for smooth and resonant synthpop with an eye to the dancefloor and a strong focus on melody.

Glass Apple Bonzai
While you might be familiar with GAB mastermind Daniel X Belasco's other project Defence Mechanism, you may not have heard about his ultra-charming throwback synth project. Let us introduce you. Glass Apple Bonzai takes the template of your classic synthpop and drenches it in the neon and modern production sensibility commonly found in the Outrun electro scene. The result is a distinct one to be certain, confident without seeming insincere and traditional without seeming imitative, this is music that has come unstuck in time and landed squarely on the ID:UD stage. The project's debut should be arriving around the time of the fest, in the meantime you can peep their fabulous first single "The Freeze".

Kontravoid
Ex-Crystal Castles drummer Cameron Findlay's signature expressionless masks bely the emotion and power of his solo-project Kontravoid. Headquartered in Toronto, the project has been forging a link between punky electro and percussion heavy post-punk, the seams covered with a coat of black paint and a head-turning lyrical sneer. A real get for the stage at Kinetik considering the act's pedigree, we have a suspicion that there will be more than a few members of the crowd who will come away with the same appreciation for Kontravoid we have, one that has kept the project's 2011 self-titled debut in rotation around our offices.

MEND
After the not-so-minor setback of losing a nearly completed record to computer theft, Chicago-based IDM act MEND are finally ready to unveil their proper debut, Vanishing Point, in less than a week (watch this space for a review). The group's mixture of downtempo, ambient, and classical composition is both reassuring and strangely alien, a tension which has drawn us back to their work time and again. We've been down with MEND since Kassi, one half of the duo, handed us a promo CD at Kinetik two years back, with a stellar sales pitch: "It's not industrial, it's more, just, electronic. I dunno, you might like it." We do like it, Kassi, and we're sure Kinetik will as well.

Seeming
Not to overstate things, but Seeming's debut is one of the two or three records we're most excited about in 2014. The man behind the project, Alex Reed (formerly of ThouShaltNot) poured a lifetime's worth of thought, research, and passion into his recent history of industrial, Assimilate (which we talked with him about recently), and without wanting to let too much out of the bag too early, we can tell you that Madness & Extinction is no less of a considered work. Touching on pop, goth, and neo-folk, it's shot through with songs that are as thought-provoking as they are well-composed, casting an impassive, JG Ballard-like eye at humanity's future. Do not miss this album or this performance.

Volt 9000
Another I Die: You Die fave, and unquestionably the very first name we thought of when we started to assemble our line-up, Volt 9000 are the pride of Toronto's current industrial scene. Steeped in Canadian industrial tradition and informed by the chiptune sounds and modular synth wizardry, Cory Gorski and Andrew Dobbels have been bringing the weird, funky and unpredictable back to industrial since the first V9K tracks started surfacing. Their latest album Conopoly was one of our favourites from 2013, and we're more than pleased to have snapped them up in the project's hometown for ourselves, get familiar now because by the end of the K weekend you'll be humming songs like "How to Start a War" and "Toybox" without even realizing it.

Worms of the Earth
Robert E Howard references go a long way with us, and so does grimy as hell rhythmic industrial. Flush with occult and literary references, WotE's work shifts from ambient to mechanical to tribal seamlessly without ever becoming turgid. Recent releases Anāgāmi an Azal'ucel show how much terrain producer Dan Barrett can cover, both musically and thematically, in less than a year, and we're sure he'll initiate plenty of neophytes on the ID:UD stage.

Wychdoktor
Another Ottawan newcomer, Wychdoktor proudly wears the influences of countrymen like Scott Fox and especially Yann Faussurier, and does good by their legacies with his own contributions to rhythmic industrial. But he's also bringing plenty of his own steez to that (much-loved here at the HQ) template, spacing out his more aggressive moments with lushly obsidian groaning atmospheres. One of our main priorities when we started plotting out the ID:UD Kinetik stage was giving some shine to up and coming Canadian acts, and while Wychdoktor's work certainly speaks for itself, we're more than happy to have them along for the ride.

Festival Kinetik happens in Toronto, Ontario, May 22-25, tickets are on sale now. If you see a really tall guy with a slightly less tall guy with an unkempt beard, come on over to chat; we'll get a beer.