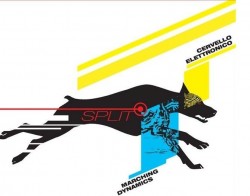 Marching Dynamics & Cervello Elettronico
Shutter and Cross Yourself/Animalism
Squarewav
The format of the split EP calls punk and metal genres to mind more readily than industrial. Apart from 21st Century's four venerable remix wars discs, none readily spring to mind. Still, in this age of ever mutating music biz models, I'm always up for a new(ish) music delivery system, especially in the case of a couple of bands with track records for thoughtful and sculpted technoid/industrial, which is exactly what we have in the pairing of Marching Dynamics and Cervello Elettronico. It's been nearly five years since we heard from Shane Talada's Marching Dynamics, while we caught up with David Christian of CE just a hot minute ago. This might explain why the former's tracks are remixes while we have a full crop of originals from the latter.
The Marching Dynamics tunes do have a clear connection 2009's The Workers Party Of Haiti in that these are rhythm-heavy tracks that keep a healthy heaping of dub in reserve, but the project hasn't stayed totally static in the interim. There's a wet warmth in the production which, while perhaps present earlier, is given a more prominent role, keeping the drums from ever reaching the bin-shattering of, say, "Confederate". These are still rhythm forward tracks, but the dedication to nestling beats in a suspension of atmosphere gives a spacey vibe to "Knewlyfe", and a ghostly feel to the the panning drum rolls of "Amnesty (Artillery Nightspace Mix)" that's not too far from Vatican Shadow. But while Dom Fenrow would be happy to let the hypnotic snare and pad vibe of "Amnesty" ride for five minutes, here every little detail is pitched and bent just so slightly over the course of the track, bringing elements in and out of focus while maintaining the core groove.
The mixes of Cervello's "Animalism" which make up the flip side of the split take some rather extreme liberties which carry the tune well away from its loping, mechanical syncopation. Tonikom adds furtive drum scrapes which give a slight Burial vibe, and adds an extra rhythmic dimension by speeding and chopping the original's vocal samples, before retreating beneath light breezes of new impressionist piano. Longstanding minimal house producers Swayzak go the opposite route, paring percussion down to the barest snaps and clicks, and stretch Cervello's pads as far as they'll reach over this sparse skeleton. Daniel Myer turns in another monster of a Liebknecht remix, winding fuzzy vocals and textures overtop a bassline which doesn't feel like it's doing all that much, but becomes a burner just by being advanced and withdrawn at key times (just by virtue of the remixes, I'd say we have enough sense of the Liebknecht project's aesthetic to anticipate a murderous techno-EBM record at this point). CE closes things out with an in-house mix of "Animalism", which feels like a "version" in the classic 12″ sense: slightly more echoing and bassy, and very much in step with the Process Of Elimination LP's quieter moments.
I've been on board with each of these bands for about half a decade now, and while I'm not sure that this split is the best way for newcomers to play catch-up, it's an excellent statement of purpose for where each act is at in 2014, and offers plenty of headphone and club fun to boot. Interestingly, along with its unique format, Christian's Squarewav label is issuing Shutter and Cross Yourself/Animalism as a limited hard copy only release (that's a collection of snippets in the video below). Word is pre-sales are going fast, so die-hards best act fast if they want in on the action.