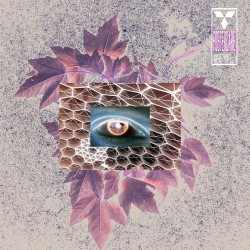 Fostercare
Innerspace vol 1
self-released
The first record of the year about which I'm truly excited about starts off with reggaeton horn and works in at least one straight up hardstyle beat. 2014's turning out to be an interesting beast indeed, but if you'd told me this time last year that the act responsible for such a beguiling peculiarity would be Fostercare, AKA Marc Andreottola, much of the shock would have been mitigated. The first Fostercare LP since 2012 follows that year's Altered Creature, similarly lifting heavily from the past twenty-plus years of electronic and dance history and blending them on frappe. That said, in seeking out a whole new batch of sources on Innerspace Andreoletta serves up an entirely new smoothie, while still showcasing his ability to deliver irreverent fun and mania alongside eclectic beats.
The unrelenting pounding of inter-LP monsters "Zentai Scheme and "Parralax" is preserved (both tracks were intended for the aborted Sirens and Sleep album), but mixed with a new blend of dance sub genres, set alongside titles that sound like Lil B mix tapes dedicated to Ghostface ("Nicaragua Mitsubishi", "Meryl Streep"). Yes, the aforementioned reggaeton horn is there, but jacked up acid ("Bent") and hard style ("Monarch Programming", "Force Relief", the latter of which comes damnably close to aggrotech) are more effectively present. Some traces of Andreottola's origins in witch house/drag do remain ("BoizGrlz") but they're so subsumed within the other genre-bending which Innerspace does that these feel more like quick stopovers than a "return to roots".
So what's the effect, and perhaps more saliently for readers of this site, does Innerspace connect with the darker corners of the map over which Andreoletta so recklessly caroms? Most definitely. EBM and classic techno basslines lie submerged at the bottom of a grey-green soup of distorted vocals and pads, like the pillars of some magical realist bridge between nostalgic remembrances of electronic's past and its all too indecipherable future. The move on the last few tracks into a cold austerity which you could easily connect to the darkwave band of your choice feels like an almost catty rejoinder to the slugging oontz a few tracks back; it's unnervingly easy for Fostercare to switch gears, and since the project never sits still there's never any disruption of its fluidity.
In discussing Altered Creature I referenced William Gibson's analogy about watching culture shift with your finger on its fast-forward button. That turn of phrase works just as well with Innerspace: Fostercare's only been away for less than two years, but time moves much more quickly in his world. Mobilis in mobili.