"It's not everyday you get a ripping sitar lead in a 141 BPM industrial banger."
Photograph is our feature wherein we ask an artist to reflect upon an album they've just released, including the ideas behind songs, the concept behind the record and any other incidental thoughts they might have had. This time we're talking to Scott Fox of Edmonton's tribal industrial juggernaut iVardensphere about his new LP The Methuselah Tree. Scott should be no stranger to readers of this site. As a long time friend of ID:UD and the senior staff, we've been following his evolution as an artist since his 2008 debut, and have continued to be impressed by the ever-widening range exhibited by Fox and his collaborators under the iVs aegis. Scott very kindly took some time to answer a few questions about process and the ideas behind The Methuselah Tree before diving into a breakdown of how each song came together.
ID:UD: One of the things that distinguished iVardensphere right out of the gate was the band's rate of release: each of your first three albums came out within a year of each other, while The Methuselah Tree had a two year gestation. Did you just need a break, or was there something different about your workflow and the collaborations involved?
Scott: There were a couple of reasons for taking more time with The Methuselah Tree. First and most importantly, having a son (Björn) means you simply cannot spend a huge amount of time in the studio. In fact, maintaining my pace with music production meant that other things that took time had to be set aside. This includes DJing which I'd previously been pretty active with.
There were also some music interests which slowed IV production down. Remixes, while a great place to try new things in a creative environment, takes a lot of time. Writing and producing Voster also took quite a while. Collaborations of that sort take forever but the effort was worth it. Our communication thread with Yann and Jamie [Faussurier and Blacker of Iszoloscope and ESA respectively, Scott's partner in Voster and members of iVardensphere -ed.] for Voster production had well over 4000 emails by the time the five track EP was done. The set up and execution for the End Of Days tour we did with Waste and ESA also took its toll on the schedule.
ID:UD: The Methuselah Tree feels like as much a movement forward from APOK as that record was from the ones preceding it, especially in terms of sound design. Have you been consciously been trying to step up the technical side of things, or is that a natural result of your evolution as a songwriter (rather than a producer)?
Scott: Absolutely a combination of the two. Constantly testing new styles and techniques pushes up the level of proficiency in every aspect of production, which aids me in writing the songs I want to write. Looking back I'm amazed that my first release actually came together given how little I knew. By the time Bloodwater came around, I had a better understanding of how to translate the sounds I was recording from the modular gear into a song.
Between Bloodwater and APOK was a pretty major shift in how I constructed songs. In APOK I found I was making sounds to fit the parts of the songs that I needed rather than fitting sounds I'd made earlier into tracks under construction. The sounds became much more tailored to the the song. The Methuselah Tree marks the first time I had a vision of what I wanted the the finished release to sound like. I'm very fortunate that the work done by Jamie and Yann really fit well with the writing I was doing and nailed the aesthetic I wanted perfectly. Also, having the ability to build the song I hear in my head is a big reason for the most recent evolution in sound.
ID:UD: Starting with APOK and definitely with this release, there seems to have been a real uptick in the role played by vocals in iVardensphere. Was that something you were always wanting to work in or did your vision for the project change?
Scott: The vision for the project really didn't change as I didn't have a vision for it from the start. That being said, I've always enjoyed having a vocal presence. In the first album it was my vocal contributions in "Bonedance" that gave that track some major character. From Scatterface into Bloodwater there is a vocal that comes from friends of mine (Grey Walls/Box of Monsters) but I felt there was definitely room to move in a more musical direction. Vocals present a way for the piece to connect with the listener in a way that instrumental music typically doesn't, and I didn't want to shy away from that challenge with the excuse that iVardensphere didn't have singers. I really enjoy instrumental music but I also love connecting with a great vocal melody. Going with both seemed like a pretty natural direction.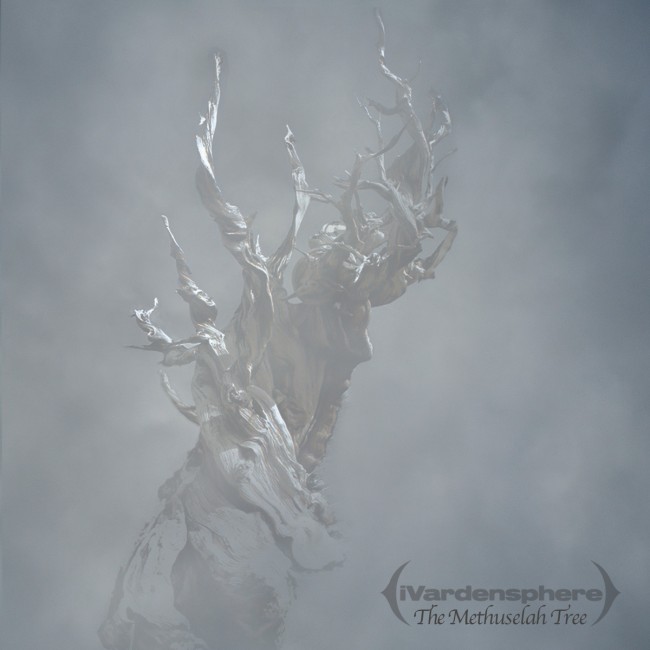 "Mother of Crows"
Scott: I knew I wanted to start the album with some sort of overture. The inspiration finally came after a recording session I did with my good friends in Booming Tree Taiko. One of the Taiko drumming group, Twilla, is an amazing singer and laid down a number of really wonderful vocal pieces during the session. As a singer for the Edmonton Opera, she was able to really make the intro something special. I still get goosebumps when I hear that opening. It's sung in Latin and is, in essence, about a woman who is not sure if she is ready for the path she is undertaking. Initially, we were going to do some additional vocal recording for the second half of the track but finding time between my schedule and Twilla's proved to be next to impossible during production.
Armed with this I was able to start crunching on the rest of the track. For the most part, the basic structure came quick but filling it out took quite a few recording sessions. I added the strings, brass and choir parts primarily from software. The bass that follows the melody is the Moog Minitaur, an amazing little synth. The drums took forever. Seriously. At one point there are 25 drum tracks just for the tribal stuff going on. This was a combination of my own hand drums, a couple processed loops, some drum machine noodling, a pile of in-the-box sequencing and a drummer buddy of mine named Lyndsay. We brought his Sonar kit into the studio and he shredded out some great grooves. We'll certainly record together again.
The thing that took the longest was mixing. This was the first track I started for The Methuselah Tree but I didn't find a mix I really liked until near the end. With so many drums going at once, it's not hard to have the whole thing slip into a 'drum soup' so the final mix needed to go through some growing pains.

"Bloodline"
Scott: This track came along really quickly in comparison to "Crows". It was getting late in the game and I was noticing a real lack of bangers. The intro and core groove came along within a couple of days. I've been getting more and more into tracks with longer introductions as I enjoy listening to tracks that evolve. I'm at peace with a club track having a mellow/ambient intro. DJs have fast-forward buttons. Things finally started coming together during a drum recording session I did with a buddy Caleb (Hilbich of Melt, Flashjam). It was a combination of Caleb and myself on djembes and congas that gave all the electronic elements the context I was looking for. To bring up the 'heaviness' I sequenced a number of percussive metal elements and brought them to the forefront.

"The Doorway"
Scott: When talking with Jamie about the aesthetic I wanted to capture with The Methuselah Tree, I didn't really know how well he was listening until I heard this track. I'm a huge fan of collaboration but when completing an IV track, I've always taken the final strides to make sure it fits my vision of what an IV song should sound like. It's the Red Line concept. You can put 5 pieces of very different art on the wall but if you put a red line through each of them, it ties them together and makes a collection.
With "The Doorway" came the very first time I did not contribute to a track during the writing process. Jamie absolutely killed it. I love everything about it and I feel that it stands as a testament to his ability to write great music, the very reason I invited him to join IV in the first place. My influence only came in during the mixing. Regardless of the writing, an IV track still needs to sound like one. To his credit, it didn't take many changes before the track ended up in its release state. If you were to ask Jamie, he might tell you the inspiration was equal parts Jack Daniels, pure hate, and sleep deprivation. Haha.

"A Black Sun on the Horizon (Invocation)"
Scott: Another track that stemmed from my recording session with Twilla. This time, instead of attaching her vocal part to the start of a track, I built the track entirely around it. The vocal element I chose to use was from a traditional taiko song composed by Booming Tree. By only using the vocal element, I was able to re-contextualize it into a new direction. While still using a taiko style percussion, I used other elements to help forge the song into something cinematic in the vein of "Mother of Crows" and "The Doorway". The fact that this, like "Mother of Crows", uses no major electronic elements outside of the bass frequencies really gives it a particular sound palette and is one of my favourite cuts from the release.

"Break the Sky (feat. Daniel Graves)"
Scott: I had a lot of fun writing this one. I wanted to capture some of the vibe I had going on with "Here Lies Lily Brant" from APOK so I used a similar setup on my modular synth as I had previously. While elements of the sound were similar to "Lily Brant", the groove was completely different. This difference was reinforced in that much of the bassline of "Break the Sky" is in a 9/16 time signature. This causes it to float around the 4/4 drum pattern and avoid stagnation. Every now and then the bassline drops back into 4/4.
The intro/breakdown sections stem from the same desire for track progression I spoke of earlier. This time I wanted to make something beautiful yet foreboding. I think it worked. Again, was it the best direction to go for a club track? Who knows? I do feel that the integrity of the song as a whole would suffer had I left out the slower parts.
Daniel [Graves of Aesthetic Perfection -ed.] and I had an agreement for months previous to the recording of The Methuselah Tree that he would sing on a track for me. I loved his work on A Violent Emotion so I went forward with it. Knowing that he prefers to sing around F, I wrote the main bassline in that key. If memory serves I did the slower parts in A but he didn't blink so all is well. After I got back his vocals, I restructured certain sections of the track to better suit a vocal presence. When it came time to release the song I did have to make a judgement call on one thing. iVardensphere's roots are as an instrumental project, and as strong as I feel the track is with vocals, I believe the song is also strong enough to survive without them. Going sans vocals also re-contextualized it enough that I can feel something different when listening to each version. To that end I provided an instrumental version of it on the "Break the Sky" single.

"Snakecharmer"
Scott: This is a deceptively simple track. Like an older song of mine, "Bonedance", the entire piece is comprised of only a dozen or so channels of audio. What it does represent is that groove is king. 🙂 The bass is from the modular synth and is being sequenced with the Cirklon Sequencer, my favourite hardware sequencer. Like "Bonedance" before it, the song is wrapped around the bassline. To mess with the straight forward simplicity if this one would be to mess with what makes it groovy.

"The Impossible Box"
Scott: This piece, for being relatively simple, went through a few incarnations. I developed the two main sections of the song (the core verse groove and the post breakdown groove) but it was still lacking some direction. Not feeling too happy with it, I threw it over to Jamie for some workshopping. Jamie managed to find an arrangement that really worked and we kept the track.
I'm a big fan of song titles. I actually keep a list of song titles tucked away and when I am finishing up a song, I'll give it the title off the list that fits it the best. Even the vocal tracks on The Methuselah Tree worked out like this. Jamie, Daniel and Tom [Shear of Assemblage 23 – ed.] worked with the titles I had chosen and built lyrics with those in mind. I appreciate that. In this case of course, Jamie's vox are about the legend of Pandora's Box.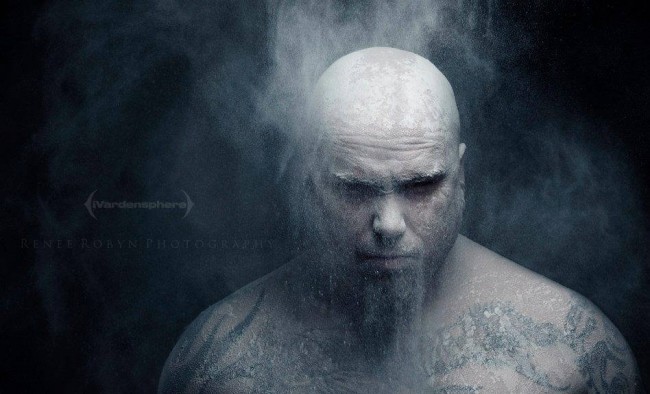 "Observing Bartok (Stamping Dance)"
Scott: This is an IV version of a classic piece by Romanian composer Bela Bartok. In his life, one of Bartok's passions was the collection and realization of Romanian folk songs that might never reach an audience or worse, fade away completely. To add to the percussion in this track I had Sean [Malley of Servitor Sanctum, iVardensphere live member] lay down some grooves then I finessed them into place. The amount of time Sean has spent over the years studying world grooves and hand drum techniques really helps give IV new dimension on stage and in the studio. Overall, I tried to not deviate from the original arrangement very much. It's a song with a history that predates my life by far and should be shown some respect so that new audiences can enjoy Bartok's vision.

"Society of Dogs (feat. Tom Shear)"
Scott: "Dogs" started out as an idea I had for a completely different music project. After some time working in the track, however, I decided to redirect it towards an IV aesthetic. With the bulk of the music done, the song sat on the shelf for a few months. Occasionally I would revisit it and make the off change but, for the most part, it sat relatively untouched. Then Tom Shear agreed to do some vocals on a track for me.
A short aside about Tom Shear – the music business sees all sorts of people ranging from rock star douches to people that are far too full of themselves to maintain a conversation with. In fact, if you look reeeeeally hard, you can find one or two in the industrial genre. Tom Shear does not fit this category. For a man that has toured the world many times and was making hit albums before I knew what a drum machine was, Tom is one of the most grounded and approachable people I know. To me, he stands as an icon and role model that other musicians in the scene should strive to emulate. Mad respect, Tom. Mad respect.
I hummed and hawed about what track to give him and finally dusted this one off. After adding in a couple of quick changes, I send it off to him. A couple months deeper into the production on The Methuselah Tree, and with the light at the end of the tunnel showing, Tom finally send back a demo of the vocals. To my complete surprise there was a wonder female voice singing harmonies. Tom had asked Mari Kattman, an artist he had been working with on another project, to join him. Having Mari's voice on the track gave it dimension that I never expected it to have. Tom is already an amazing singer and this pushed the song over the top.

"Eclipse"
Scott: This is a track that Jamie started. At the time, I was having a hard time writing any real bangers. Much of my writing had been focused on the world music aspects of the release. Jamie brought this to the table and I smiled. The arrangement was pretty much there as was a great drum sound. Jamie had already written some great progressions so I went to work and built on them. I added a bunch of atmospheric percussion throughout the intro and eventually a big synth lead that comes in after the song kicks in. All these elements fit really well with Jamie's groundwork. Together we communicated and tweaked away until the track arrived in its final form. In my humble opinion this is a killer club tune.

"Second Sleep"
Scott: A friend of mine named Sable recently attended a recording program in a prominent Vancouver training institution and sent me a short piano piece she recorded while there. I ended up experimenting with it and adding in other elements to compliment and re-contextualize the original. After a couple of sessions with it, there was something interesting going on but it was still lacking. Yann gave it a listen and asked to take it for a while. Yann was in Europe for the bulk of the production period of The Methuselah Tree and was unable to commit to any heavy production schedule but I'm happy he was able to fit this in. Yann has the ability to "Yannerize" a song. By that I mean he adds an indescribable element to the music that only he can. It's a certain dissonance in his sounds that he's able recognize as musical and use effectively. Fans of Iszoloscope will know what I'm talking about right away. Yann added that dissonance here, giving the track a completely new dimension, as well as fortifying its structure through percussion that was not previously there.
Finally I approached my wife, Chantal, about doing some vocal elements. I've worked with her a number of times in the past, most notably on "Chasing The Dragon", "Virus" and "Bonedance". She's always able to provide a very unique sound that always just fits. In "Second Sleep", I find it really easy to connect with her voice as it compliments the track nicely.

"Second Sleep"
Scott: Another track Jamie started. Most of my changes in this, however, were production based, not writing based. I have to slow clap for Jamie on this one. It's not everyday you get a ripping sitar lead in a 141 BPM industrial banger. My biggest changes from Jamie's vision take place in the second half. I chopped out a few things and planned out the addition of a bunch of tribal drums. Having the opportunity to have Chuck [Murphy of Dead Jesus, iVardensphere live member) and Sean in the studio proved really fun and we came up with some really dynamic drum elements that play well with the rest of the song. There is a lot going on in this one and its going to be a hell of a lot of fun to play live.

"The Methuselah Tree"
Scott: The title track has some history to it. Sometime ago, I did a remix for another project but I was never really happy with the final product so I decided to workshop my own sounds that I had used for it. A different breed of song started to open up. It's around this time I was speaking with Remy Pelleschi from Mlada Fronta about doing a collaboration. I ended up sending over the stems for this track. He took a couple of months and reworked a large amount of the song and fired it back over to me. At this point I ran with it a little further and things were going good.
Then I showed the track to Jamie and it took on a whole new dimension. Jamie jumped on it right away and said he'd love to lay down some vocals. All I did was give a rough idea of what I wanted and what he did ended up embracing the theme behind the album so much I had to give it the same name. I'm really lucky to have Jamie's voice in IV. He's a Swiss Army knife of vocal sounds. It's like having 5 different singers. This ended up being a song I absolutely never would have been able to do by myself and stands as a testament to why I've loved working with other talented folks over the last few years.
The Methuselah Tree is out now digitally and on CD via Metropolis Records.