It's time for another visit with our resident Op/Ed guy Matt Pathogen, who has some thoughts and no small amount of words on an unusually positive topic this month….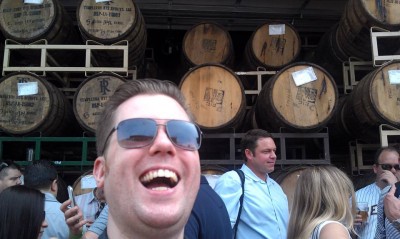 Okay folks, it's time for some real talk. It's kind of obvious that one of the recurring themes in most of my articles for this fine site is fairly harsh criticism for people's attitudes in reference to industrial music and culture, and you know what? I just spent two full days listening to Revolver Magazine's exclusive preview of the entirety of Skinny Puppy's Weapon and I just can't keep up the cynicism. Thus, I'd like to instead share with you an opinion that I feel increasingly confident about asserting: In America, it would appear that industrial music, within the greater context of dark alternative as a whole, is experiencing a surge of relevance that may point to a change in our collective fortunes. Here are a few factors that indicate why this might be the case.
5) The Opening of Complex
While venues that exclusively catered to underground and/or alternative culture events might seem like a mythical beast for people in this day and age, it wasn't actually that long ago that such venues not only existed, but thrived. Many have either closed down (New York's legendary CBGB, the first and last word on American punk, shut its doors in 2006) or diversified from their classic role (Chicago underground music institution Neo has recently began successfully experimenting with the house scene in an effort to offset low attendance at other events), as membership of the greater underground music culture receded dramatically. However, this year the folks at Los Angeles' Das Bunker challenged this trend and, after years of planning, raising capital and wrangling with various licensing boards, opened their own music venue in the LA suburb of Glendale. Drawing on the vast network of connections DB has developed over the course of its existence, the live show roster immediately took on a too-good-to-be-true air, hosting major shows (and often exclusive complimentary back catalog shows) from some of industrial's luminaries, jaw-dropping combinations of notables and burgeoning acts from all over alternative music's constellation, and weekly karaoke and trivia events that have caught the fancy of many of LA's finest.
From a logistical perspective, Complex also bucked another huge trend in underground music venues when it opened. Let's face it; we in the underground music world can count ourselves lucky when we step into a venue and not be accosted by smells best kept to a men's bathroom. I've lost track of the amount of times that, in a fit of desperation, I've turned to venues with mold problems, faulty electrical systems, dead rats in the walls, pipeworks from the age of Elizabeth, beer that tastes like it was filtered through a dead skunk's liver or a sound system that most closely resembles someone belching into a funnel. Complex opened its doors with a well-appointed atmosphere, a tidily-curated beer menu [The senior staff concurs. – ed.] , and a Funktion One sound system, widely regarded as the best brand in live PA systems, period. Let's make no bones about it, a venue like this in most cities would immediately become choked with EDM coattail-riders and a storm of Tiësto remixes from start to finish. That Complex has arrived to make its floors the playground of alternative music is an enormously positive sign.
"The concept for Complex was to become the coolest live music space in Los Angeles. Not the biggest, not the most popular, but the coolest. And I think we are on our way. We do a lot of shows with a wide variety of promoters and styles, but all are people who are recognized in their respective scenes as tastemakers. And with my background in industrial, it has been a lot of fun to put together shows with acts whose audiences may not be familiar with each other but have sounds that complement each band and both allow one to gain some new fans from the other while at the same time making for a great party."
– John Giovanazzi, Complex LA/Das Bunker
4) Viva Festivals!
Birthed from the comparably intimate C.O.M.A. Festival, the Kinetik Festival in Montreal did what many thought was impossible: became an institution. We as a scene and a community spent so long bemoaning the collapse of our base of supporters that the idea of a festival operating out of North America could make it past one year was outlandish. The idea of it becoming an international phenomenon, something that people flocked to from all over the world, would have just drawn questions about your sanity if you'd proposed it. Yet Kinetik did exactly that: it made it clear that with a little canny marketing and a lot of elbow grease, North America could play host to an industrial festival fitting on the world stage. The excitement as the date draws near is palpable every year, and even when they take a break from going full-throttle for a year and offer a reduced, more manageable lineup, it's still the place where everyone wants to be once May rolls around.
It is not in bad company, either. Calgary's Terminus Festival has drummed people's desires up to a fevered pitch with a heavy-hitting lineup offering a cross-section of what's hot all over the dark electronic spectrum. Playing a very strong hand filled with recent favorites of the discerning industrial connoisseur, Terminus has done the impossible: made a world-class destination of the province of Alberta. Who'd have thought? On the other end of the spectrum, NYC's Triton has put together a lineup that will appeal to anyone interested in contemporary EBM.
Let's do the math: three major festivals in North America, each of them able to stand on their own and tell the world, "Come on over to this side of the Big Wet Thing, we've got something for you."
3) Recent Events Concerning Chicago Industrial
My bias might be written in huge block letters on my head with permanent marker when it comes to the Cold Waves Music Festival, considering how much difficulty I had putting my experiences at last year's initial iteration of the festival to paper. However, Chicago has a very particular relationship with industrial, having played Rome to the greater empire of American industrial throughout the '80s and '90s due to Wax Trax! Records' prominence throughout the genre. Chicago was to industrial what New York City was to punk: an enchanted port that introduced the entire country to a brazen, challenging new form of music that whipped an entire generation into a frenzy. The past decade and a half or so has seen a dramatic reduction in force on Chicago's dancefloors and concert hall floors, which caused no amount of concern among people who saw the music they'd committed to themselves losing sway. The Wax Trax! Retrospectacle in 2011, a three-day commemorative event that featured some of the label's heaviest hitters swooping down on Chicago to pay homage to label co-owners Jim Nash and Danny Flesher (Nash died in 1995, Flesher in 2010), was such an enormously successful and important event that it gave many in Chicago cautious hope for the future.
One must certainly wish that tragedy didn't seem to be the required catalyst for great works to unfold, but life is what it is. Much as Flesher's death had spurred the Retrospectacle, the untimely departure of Jamie Duffy, one of American industrial's golden sons, was the impetus for 2012's Cold Waves. Again, this was such a success that the show-runners immediately entered talks to do it again, this time even bigger, in 2013. This culminated in the massive two-day exposition that is the festival's 2013 iteration, which generated an enormous amount of buzz upon its announcement. Without going into too much detail about the lineup, it has built upon the air of adventure and new beginnings that the 2012 festival imparted on many of its attendees and performers and presented a cross-section of the dangerous, fascinating musical phenomenon that made Chicago industrial the end-all-be-all for so many people for so long. With such a successful string of events under its belt after years of dwindling returns, there's plenty of cause to suspect that the fabled city is back on the rise.
Caveat: I live in, am in love with and operate out of Chicago, so it would be utterly impossible for me to be impartial about it, so feel free to take my optimism and aggrandizing words with a grain of salt.
"The result of the original Cold Waves memorial show proved to be greater than anyone anticipated… Not only did people flock to the Bottom Lounge from all over North America, but also from all corners of the world. But the real effect of this show was greater than simply selling out a 700 person venue, it re-united friends, mended broken relationships and sparked an interest in Industrial music as a whole again. The energy and emotion that was felt on that Friday evening led to new collaborations and new inspirations. That inspiration has brought us to do the second Cold Waves festival. Our aim is to have this become a yearly festival and one that will be a destination event for years to come… Our aim with future Cold Wave festivals will be to weave some of the scene's younger bands in with the veteran acts to perpetuate interest in the coldwave genre, while continuing to celebrate the spirit of our fallen brother, Jamie Duffy."
– David Schock, WTII Records/Cold Waves Music Festival
2) Skinny Puppy's Weapon Released On An Industrial-Centric Label
Since Skinny Puppy's re-inception after the Doomsday Festival in 2000, the Canadian industrial pioneers have released each of their records on German independent label SPV GmbH (either directly or through sub-label Synthetic Symphony), which these days is more closely aligned with various strains of metal than anything coming out of industrial. This all changed when they decided to release Weapon with Philadelphia-based Metropolis Records, a label that, regardless of the biases for or against it many may have, has probably been the most important outlet of industrial music in America for over a decade.
I personally think that much of the criticism of Metropolis' tactics are unfair; not only have they served as a vital outlet of distribution from labels throughout the world, they also saved many bands from obscurity when smaller labels like 21st Circuitry and Pendragon closed their doors and their artists found their way onto Metro's roster. Their experimentation with artists from other genres was viewed as an inexcusable breach of faith by some hard-liners (the signing of rockers Electric Six was a deeply divisive issue, for instance), but in the wake of the breakdown of the recording industry as a whole, attempting to diversify to maintain a strong bottom line and a growing fanbase is far from the worst thing a label can do. In the past few years they have doubled down on releasing many highly-regarded industrial albums and courting legendary artists such as Alison Moyet of Yaz fame. However, the well-deployed promotional campaign for Weapon has, if it pans out, solidified the idea that a label concerned chiefly with industrial music can capture the world's interest.
Not too long ago, label head Dave Heckman spoke to I Die: You Die about how difficult it is to convince people that an industrial label can be taken seriously. After such a scathing statement, to have a band as important and influential as Skinny Puppy put their faith in Metropolis is a huge sign, one that indicates that North America's industrial community can and will complete on a global level. This is saying nothing of the actual quality of the release, which in my opinion is top-notch. In many ways Metropolis Records is the standard bearer of North America's industrial community, the only large-scale label to weather the storm of bankruptcies and consumer retreat that's led to a majority of other American labels either maintaining a very small position in the marketplace or shutting down operations in the face of looming costs of business. However, treading water is obviously not enough to say that a venture is healthy; in many ways, Skinny Puppy choosing to align itself with Metropolis is a coup, one that will catapult the label onto the global stage, as the band's fanbase is undeniably worldwide. We shall see what the future holds for the label's stakes and what kind of sales figures the album leads to, but from the outset, this much attention for what is essentially a craft label means that industrial music, specifically coming out of North America, has barnstormed the industrial music world that transcends the community itself.
"I don't think the label has ever been about one specific genre. We have always tried to do the EBM/Industrial stuff, but quality releases outside of that as well. The mentality of being exclusionary will only hurt a scene, a band, or a label. If something is good, and makes sense, it can only be a good thing. I think it's obvious that Skinny Puppy's reach and influence has long surpassed the boundaries of one specific musical genre. They're the band that pulled me into this type of music, along with countless others. It's a dream to be able to work with them."
– Jim Smith, Metropolis Records
1) The Rise of Minimal Synth, First Wave EBM, Witch House and Dark Alt Titans
For much of the late '90s and essentially all of the '00s, American industrial was almost entirely beholden to the European strain when it came to style and aesthetics of the music. There had been a long history of trend-trading across the continental divide, with bands like KMFDM hopping the pond to become Seattleites, Die Krupps bringing the tradition of guitar-driven industrial to German audiences, as well as the obvious influence that bands such as Front 242 brought to the electronic angle in America. However, around the turn of the millennium, with coldwave on the decline and American labels closing up shop, Europe's influence over American industrial started to become hegemonic in form: the biggest bands on everyone's lips were always European, bands on our side of the Atlantic began aping their styles, and the fashion styles started to become indistinguishable. It seemed like the idea of a quintessentially American form of industrial music had started to become an archaic concept.
However, something changed in the late '00s. Bands like //TENSE//, Gatekeeper and White Car began to develop a certain level of buzz amongst the indie music blog scene, incorporating a heavily industrial-influenced sound with visceral performances, often in small venues (or even in people's apartments), and word began to get out about them. At the same time, bands like Light Asylum and Austra erupted onto the music world and gained the fancy of major tastemaker music sites, bringing a fresh interest in dark aesthetics to the music world at large. Finally, artistic movements like minimal synth and witch house lurked on the underbelly of music before coming to the foreground, changing the geography of the discussion about industrial music as time went on and artists from these genres became more and more accepted by the traditional industrial scene.
The important thing about these turns of events, which I must be woefully brief in outlining, is that they spell a change in roles in regards to North America's relationship with industrial music, especially of the European variety. Instead of being almost wholly informed by scenarios coming out of Europe, the last five or so years have seen North America standing on its own two feet when it comes to dark alternative, producing acts that have caught the attention of many from within and without the industrial scene, and reestablishing American industrial acts as a reliable and unique export after many years of being relegated to receiving product from elsewhere.
That's not to say that many bands have not experienced plenty of success and influence during the intervening years; acts like Assemblage 23 and Imperative Reaction proved that this side of the pond could stand up and be counted when it came to producing solid, successful albums. However, the game-changer has been the vast diversification in dark music, injecting a much-needed shot of inventiveness, a break from formula and reflection on what made all of us love dark music in the first place.
—
This is not to say that every city is going to experience this perceived renaissance. Sure, it's an exciting time to live in a major metropolitan area, on tour routes and within walking distance of receptive, forward-thinking clubs and record stores. However, a lot of smaller locales with much less demographic turnover than, say, a major urban environment or a well-established college town have had an enormous amount of trouble keeping their clubs open, their shows from collapsing and, in many cases, their entire local scenes from pulling a Roanoke Colony and simply vanishing into the surroundings while the shop isn't being tended. I'll definitely cop to being spoiled by having a huge, vibrant metropolis like Chicago as my base of operations, a scenario that has given me no small amount of freedom and open space with which to play around with ideas and establish my own theories. These theories and ideas are probably going to be useless to someone trying to keep their local scene from buckling under such pressures as economic instability and decline of interest, and I'm far from unsympathetic to the trials and tribulations of people giving it their all to keep things going.
However, maybe it's simply time to consider that the standard business model we've been employing for the past ten to fifteen years has just run its course and is starting to just become unsustainable. One of the more unflattering and long-running attitudes of the outward-facing collective personality of Our Thing, to quote the Great and Powerful Brulex, is maintaining a kind of constant half-sneer towards people that didn't exactly fit the bill for Most Likely To Enjoy Weird Aggressive Electronic Music. For example, the general clutching-at-pearls fear of the cursed hipster invading industrial nights (an irrational and obnoxious terror that I certainly was guilty of for longer than I had any right to be) has created a stiff barrier that is turning away people who are interested in exploring industrial music at the door, thus harming us collectively by preventing an influx of new blood. Think of it biologically: a closed-off gene pool doesn't flourish. It becomes inbred and drooly and weird. The traditional scene these days just isn't populous enough in most American cities to justify setting up roadblocks to discourage the fearsome hipster from coming in and giving it a shot.
It's a good time to explore some new ideas. Some things I left off the list – like haute macabre being a major player in the fashion world, Nine Inch Nails whipping the internet into a heated fervor when they announced they were returning to action, and industrial-influenced techno artists coming from overseas to play before big crowds at North American dance clubs – are even more indicators that there's something out there beyond our collective event horizon that we could tap into. Furthermore, the people who might come in the door if we embrace these turns of events and the looming interest in our doings aren't exactly alien beings; while chatting with Shannon Funchess of Light Asylum at a recent show in Chicago, she expressed great interest in returning home to catch Leaether Strip's performance in New York City near the end of their tour.
Far be it from me to advocate throwing the baby out with the bathwater, though. While it might be tempting to say that the traditional/mainstream scene should be considered dead on arrival and instead we should all focus on the future of hipster goths (or cryptsters, if you will), that's stupid and unhelpful because alienating people who have displayed their own brand of commitment is unfair. Kinetik Festival's vast, surging seas of folks festooned with goggles, hair extensions and cyber fashion is proof enough that shooting them down as a non-contributing factor ignores obvious facts. Plus, tearing down one hegemonic force just to replace it with another is the critical flaw in every failed revolution, one that would be pointless and counterproductive to embark upon here. Let's just say that it's potentially a very cool time for us to all transcend our petty differences and embrace what might be a very cool turn of events for this thing we all ostensibly love.
Edit: Daniel Graves of Aesthetic Perfection offers a rebuttal to Matt over on his blog. Read it!
Edit: And now friend of the site Eric Gottesman of Everything Goes Cold has added some salient points to the discussion!