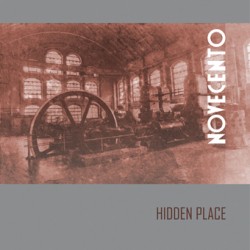 Hidden Place
Novecento
Calembour Records
Italy's Hidden Place trade in a smart blend of sounds from across the range of genres Europe likes to collect under the "wave" umbrella. It's records like Novecento which make one appreciate the amorphous boundaries and taxonomies of that catchall: while clearly having roots in both cold wave and darkwave, Hidden Place are confident enough to pick up and drop tropes from those genres at their whim, heading out on a dreamy journey through melodic electronics at their own pace.
First full track "Off And On" almost comes off like a warm-up lap for the synths and samples, getting the mix and mastering properly together, with some minimal but strangely stirring guitar introducing us to the sculpted but gauzy sound Hidden Place are working in. Things get rocketed into a higher gear immediately after, however, with "Between The Devil And The Deep Blue Sea", a collaboration with Quebec's Handful Of Snowdrops. A classic darkwave stormer out of the gate with a mix of all of the elements which make that genre great (including a suitably squealing guitar line), "Deep Blue Sea" feels so immediate and catchy I found myself doing some heavy Googling to double check that it wasn't a cover of an obscure track from a bygone age which might've been filed away in the back of my mind. It isn't, it's just blessed with an easy, romantic flow which is irresistible.
While I imagine it's accidental, tracks like "Off And On" and "Stunning Art" also find a nexus between cold wave and the sleek retrofuturism of the outrun sound being championed by the Light Spectrum label. That said, I feel that mid-period Kirlian Camera (specifically the Hidden Light to Invisible Front period) seems the strongest point of comparison for Novecento: sharply gated arpeggios weave over moody pads while vocalist Sara Lux drifts back and forth as if barely audible beneath twilight waves.
Although not radically experimental, Hidden Place aren't slaves to form either, allowing their compositions to dictate arrangements and instrumentation, rather than hemming them in. While she's a strong singer, there's a canniness about not keeping Lux's vocals front and center for the duration of the record, with instrumentals, the aforementioned Snowdrops collab, and a guest appearance from Froxeanna of fellow Italians The Frozen Autumn (whose Cambelour label the record appears on) peppered amongst her turns at the mic. Novecento feels like an album whose creators have gone out of their way to allow it to take shape naturally, but don't mistake that effortless smoothness for a lack of quality.