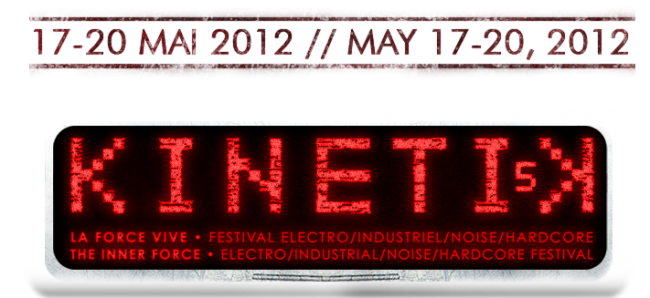 The I Die: You Die senior staff has been attending the premiere industrial festival in Canada (and North America actually) since it's inception in 2008, and it's always one of the highlights of our year. We've each individually DJ'd in the second room, participated in promo parties here in Vancouver and formed our own community of like-minded fans that we hook up with each year in Montreal.
A big part of the lead-up to the fest is the anticipation of band announcements as they're agonizingly portioned out by fest impressario Jean-Francois (the hardest working man in industrial-showbiz). We're about halfway through the reveal of next year's line-up, and thus far we're pretty pleased with what we've seen. There's some cool returning acts like Hocico and Winterkälte, some names we've wanted to see for years like Haujobb, and some left-field choices like S.P.O.C.K. and Heimataerde. Wild, baseless speculation and backseat booking has been as much a part of the Kinetik experience as getting drunk outside the dépanneur between bands, and we're more than happy to throw our hats in the ring. It should be noted that JF does solicit suggestions over at Kinetik's official Facebook page (though only in the appropriate thread, don't spam!) but we're not above using our own platform as a means to throw out some names we'd love to see grace the stage at Métropolis.
For the most part we've tried to stick to artists that haven't played before, and away from pie in the sky requests for bands that are no longer active. Here, enjoy our fanboyish requests, and consider this the official kick-off to our coverage of Kinetik 5.0!
Jäger 90
There's never been much of an Anhalt presence at Kinetik, likely due to the relative obscurity of most of the artists, at least from the North American scene's perspective. We'd say that with their most recent release on Out of Line, though, Jäger 90 could be the ones to pop the fest's new-oldschool EBM cherry. Video clips on ye olde Youtube give evidence of an energetic and stripped down performance style that I think would go over quite well with the Montreal crowd, not to mention garner some exposure on this side of the pond for one of our current favorite styles of EBM.

Ashbury Heights
Not sure what the status of AH as a band is currently. Anders Hagström announced on Saturday via Twitter that a settlement had been reached with the band's label which presumably will means they can record again. Anders followed the announcement up with a statement about having to select a new female vocalist, which means it may be a while before the synth-pop powerhouse is back in shape for live shows, but May 2012 is still 8 months away. Shake a leg guys, we'd love to get a chance to see you in Montreal!
Liquid Divine
Way back in our very first posts we cited LD as one of the bands that made us hopeful about things in our end of the pool. Consequently, it's probably not much of a surprise that ID:UD would love to see them play our favorite festival. Their blend of developed production and smart hooks, tempered with their avoidance of cheap and easy tricks makes them an underrated gem in the EBM scene, but would hopefully hold plenty of appeal for first time listeners.



Dryft
After leaving Dryft behind in favor of his shoegaze infuenced project Bitcrush, Cadoo roared back in 2010 with the amazing Ventricle, a fabulous dense and layered album that hearkened back to his work with the dearly missed Gridlock. Kinetik has always had a noisier and abstract element in it's line-ups, and we'd be terribly pleased to hear some of Dryfts shredding metallic rhythms and rich pads on the festival stage.
In Strict Confidence
La Parade Monstreuse was easily one of Alex's favorite albums of 2010 in or outside of our thing, one that has shown the breadth of ISC's reach. Darkwave, a bit of clubby electro, a sprinkling of Neue Deutsche Härte and more made their way into the band's sound while still sounding cohesive, and well, like In Strict Confidence. We could be mistaken, but to the best of our knowledge they haven't played extensively in North America, so taking into account their status as a well-established European act who are known round these parts, it'd be a great get.

Snog
You know, we'd probably take any of David Thrussel's creative incarnations at this point. Dude has quietly and consistently been producing amazing music in a variety of electronic genres for approaching two decades now, and for our money he's got one of the most diverse catalogues of any artist originating from our end of the pool. Would it be too much to hope for a dual Black Lung/Snog appearance at North America's biggest industrial festival?
And One
Okay, fine. We make a lot of fun of Stevedave Naghavi, but we still love And One and were sorely disappointed when they couldn't make it to Kinetik in 2011 (for whatever dubious reason). With Panzer AG, another artist who had to bail on a previous fest, being re-booked for next year it doesn't seem unreasonable that we might get a chance to see the new-old And One line-up in action.

Cervello Elettronico
Our bad. At the second Kinetik Cervello, played an early set and like a couple of doofuses we skipped it to go eat chinese food. Imagine our regret when we copped 2009's Process of Elimination and discovered they were one of the most interesting artists hoeing the row between danceability and abstract electronics. Come back Snarf! The first order of vegan General Tsao's is on us.
Apoptygma Berzerk
We make no bones about our distaste for El Grotho's last decade of output. Fact remains that Apop is one of the last major futurepop artists not to have played the festival, they have a storied live show that integrates much of their classic material, and we don't want to pass from this life without getting to hear "Bitch" live. Don't even act like their isn't a song in their catalogue you don't feel the same way about.

Psyche
Darrin Huss has been putting out music as Psyche for 25+ years and is still plugging away. I don't recall the last time they played Canada despite hailing from Edmonton and once counting Dwayne Goettel amongst their ranks. They're a living part of Canada's legacy when it comes to dark electronic music, and it'd be great to see a homecoming on the Montreal stage.