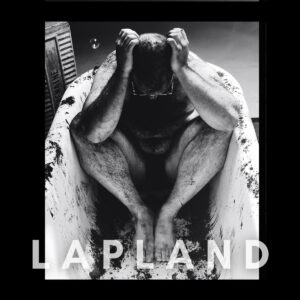 Total Chroma
Lapland
Negative Gain Productions X Verboden
Isku Katerwol's decade of work in Vancouver's dark synth underground has resulted in a slew of projects (not to mention the emergence of Verboden Festival through which he's been able to elevate the profile of many like-minded acts in and outside of the Pacific Northwest), but a unifying thread should be apparent to those of us who've tracked that body of work. Lapland, the latest record from Katerwol's solo Total Chroma project, makes some slight changes in sequencing and scope, but it retains the loose, lo-fi synthpunk charm of the work which precedes it.
As material from what would go on to be Lapland began to appear in Total Chroma's live sets, a tightening and stacking of synth sequences began to stand out. The programming on much of Lapland just feels a bit denser than that of 2021 LP Body Relics, whether that takes the form of the murky, swimming against the current morass of pads on "Mouth" or the rapid-fire cyber-flutter of "Mind In Stasis". While still very much operating at the weirder intersections of minimal wave and body music, the more psychedelic side of Total Chroma that's always been present is now carried by Katerwol's eponymic wail and some of the spacier pads.
Lapland is a record rife with collaborations, and it's easy for those of us who know Katerwol's easy-going and generous personality first-hand to see it reflected in these tracks, which seem designed to showcase the strengths and styles of his guests. The darkwave croon of Madison's Carrellee is the focal point of the aforementioned "Mind In Stasis", while the hyperpop speedrun of "Red Shift" makes Devours' vocals feel right at home. The more minimal side of Total Chroma's sound closes the record out with "Don't Look Back", with the haunting yet comforting voice of Kellarissa being given final sway.
Lapland's loose theme of Katerwol reconnecting with his Sami heritage might not be immediately apparent to listeners, but if nothing else it jibes with the thoughtful and reflective tone taken through much of it. Total Chroma's sound is multifaceted, yet holds together thanks to Katerwol's idiosyncrasies, conscious and otherwise.