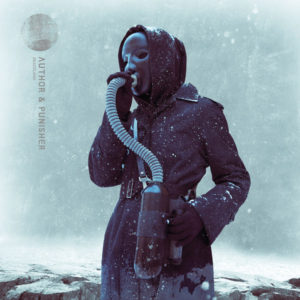 Author & Punisher
Beastland
Relapse
It's easy to miss amidst the hullabaloo surrounding the home-hewn gear used in the recording and performance of Author & Punisher's material, but Tristan Shone's done a bang-up job of getting his music into the ears of people who might never otherwise check out an industrial act. Just last week my hardcore-loving barber asked about the music I'd mentioned I write about. "Industrial music? Like that Author & Punisher guy?" was his follow-up, a welcome break from the "Sooo…Tool?" type responses I usually get, of course, but also indicative of Shone's craft and grind over the past decade. And he couldn't be putting a much better foot forward than Beastland, a brisk and bracing set of some of his leanest and most economical barrages of noise which also delivers the project's most succinct form of its metal ambitions.
Doom metal has always been one of Shone's core inspirations beneath the grimy production and sound design of Author & Punisher's mix-filling noise, and the former comes further to the fore than ever here without forsaking the appeal of the latter. Check the pacing of a characteristic piece like "Nihil Strength": the blunt-force rhythms with crossfire staccato fills have all of the disturbing ease of any number of early 80s industrial and noise releases, but the slowly lilting tone shifts in the programming (which has never sounded more like guitar) points to a soulful (if still pained) thread woven through the chaos. "The Speaker Is Systematically Blown" takes this a step further, with a blues-rock vocal delivery on the chorus which wouldn't feel out of place in an open-air festival set from any stoner metal act you'd care to name, while "Nazarene" gets into a harmonic psych-breakdown that's equal parts Jesu and Type O Negative. Elements like these were brought to the fore in the sludgy excess of 2015's Melk En Honing, but Beastland flips the script between these melodic dirges and the more overtly scornful mode of A & P so quickly that neither the metal nor the industrial elements ever lose their edge.
It's fitting that Beastland's been released on Relapse. I'd be hard-pressed to name a label that's done a better job of introducing the metal scene to industrial and experimentally minded releases, but Shone's work speaks for itself, and to an already appreciative and varied audience. Beastland may offer groove-based points of entry for metal fans, but it also has plenty of solid-state rivet appeal.