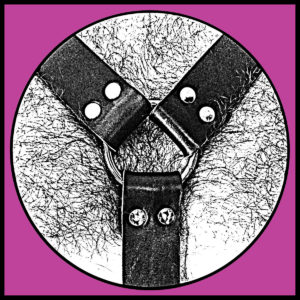 Plack Blague
Night Trax Remixes
self-released
Hellbent for leather-daddy DIY EBM act Plack Blague have been breath of fresh (if sweaty) air for the North American industrial scene. Beyond the immediate appeal of a masked man in full fetish club kit singing songs about cruising over rough body music, the project has found a way to balance camp and deadly serious perspectives into a bracing whole. Following up on 2017's enjoyable Night Trax comes Night Trax Remixes, a decently varied collection of alternate takes that showcases the variability of the original material. There's some interesting contrasts that come from that, with mixes like Sweat Boys big-saw-industrial club take on "Leather Life" standing in sharp contrast to Lana Del Rabies' lo-fi noise version of "Destroy the Identity". Similarly, there's not a lot of middle ground to be found between Statiqbloom's bleak and atmospheric dark electro and Cult Play's hyped up techno, much less Endometrium Cuntplow's caustic death industrial, but none feel out of place as remixers. One of Blague's key strengths on record is his ability to muscle his way across genre boundaries, so it shouldn't be much of a surprise that there's unity to be found amongst the disparate cast of artists he tapped for this release. It's all in the name of Blague, and everyone brings something interesting to the music of the man who fucks the man who fucks with you.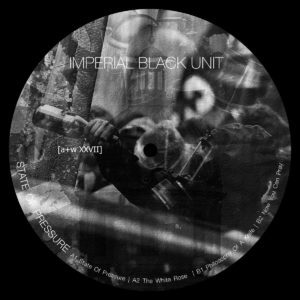 Imperial Black Unit
State Of Pressure
aufnahme + wiedergabe
Imperial Black Unit didn't just impress the folks from Youth Code after gigging with them on the latter's recent trip down under, but also won over the savvy mavens at aufnahme + wiedergabe, who still have an ear for pure EBM despite all their dark techno success. Don't get it twisted, though: as much as Imperial Black Unit are well versed in the classics, it's not so much austere, minimalist anhalt that they're shooting for as much as it is squelchy and mopey early 90s excess on their debut four track EP. Check the morose pads which adorn "Philosophy Of A Knife", or the way cascades of tinkling arpeggios on "The White Rose" add post-rave ennui to an otherwise storming metallic banger. We enjoyed the work of one half of IBU, Thomas Chalandon, with his X-IMG-affiliated Templer project, but it's exciting to see him setting aside its raw and scraping clatter for the moment for the sake of lusher work. Blurring the line between EBM and dark electro isn't necessarily anything new, but the sound IBU have established quickly feels fresh and relevant, combining equal parts groove and aggression that should hold just as much appeal for Leaether Strip loving true-schoolers as for the Berghain set.