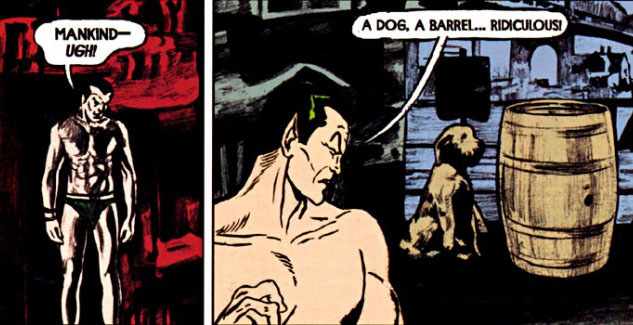 We had ambitions towards talking about a couple of specific records on this podcast, but there was just too much news related to live shows, labels, and general scene whatnot to talk up this week. Tune in next time for a scintillating three-hour round table discussion comparing Conrad Schnitzler's work to Bruce Haack's, but until then subscribe and rate at iTunes, download directly from this link, and stream from the widget below!

Annotations:
00:00: As with every episode, our theme music is "Black Cross (Dead When I Found Her Remix)" by ∆AIMON, available from Artoffact records.
1:20: Warrior is never gonna be confused with Lou Thesz or Bret Hart, but he had at least one classic match.
1:38: It is a catchy tune.
2:05: Bruce won't go to the mat for Nosferatu the way he will for Rosetta Stone, but like the Ultimate Warrior, they have at least one solid classic.
3:55: Aftermath was assembled too hastily to have an actual website, but all of the pertinent info and answers are on its FB page. Tickets, schedules, and full band list can be seen here.
12:10: Have you checked the new Haujobb song and vid yet? If not, what're you waiting for? Hop over to this week's Tracks post and get on that!
12:45: We're still pretty pleased with the Rough Guide to Haujobb.
13:22: This review was the cause of no small amount of fretting and consternation.
16:05: Cop that 7″ or digital single.
17:49: Here's that interview.
21:57: Yes, Bruce misspoke: 32Crash is the project in question.
22:53: Cold Waves, round 3!
23:38: Bruce blew out at least one pair of headphones in Grade 11 listening to "Self Bias Resistor" and "Zero Signal" on repeat.
25:05: Chicago Diner: sweet succor for those tired of healthy vegan restaurants.
27:33: Go with God, Wesley Willis.
28:35: Check the first tune from Cocksure.
31:47: 242 being referenced on 90210: a landmark moment in industrial's crossover, or just a CBS intern with a secret rivet background? You decide.
32:37: Praise The Fallen wasn't technically the last WT release, but we feel comfortable saying it was the last one of note.
35:44: You can see the entire Echoes tracklist and hear some samples here.
40:44: Through The Trap Door is still on today and tomorrow.
41:54: Picture this, but much darker, and MUCH LOUDER.
45:30: Check the first episode of Talking To Ghosts (after you've finished listening to this, natch).
50:33: The imaginatively named Spider-Man: The Video Game was the title in question.
51:00: Cop all of the nautical Causticles goodness here.